Pro Life Ministry

Pray a rosary a day for the right of the child in the mother's womb!
Pregnancy Resource Center of Fort Bend County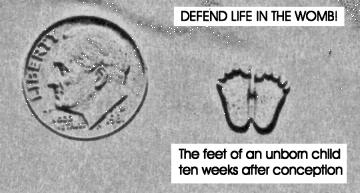 We pray so our nation may pass an amendment to the Constitution of the United States giving the right to life to the unborn except in cases of death of the mother.
If you would like to know what the Catholic Church teaches about the fifth commandment click HERE.
If you are in need of help or you know of someone who needs help in having a baby,
call the closest Catholic church and ask for help.
Instruction on Bioethics, Respect for Human Life- From the www.vatican.va
For Life pdf file for reproduction

You can find the Official Page of St. Thomas Aquinas at www.stthomasaquinas.info
Leap of Faith Catholic SiteŠ 1996-2019 All Rights Reserved