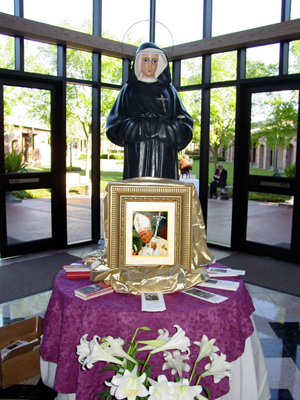 Photo taken April 3, 2005 - St Laurence Catholic Church, Sugar Land, TX
Pope's Final Statement Proclaims Divine Mercy
Vatican, Apr. 04 (CWNews.com) - In a statement released shortly after his death, Pope John Paul II (bio - news) proclaimed that "the world needs to understand and welcome Divine Mercy!"
The Pope's statement, prepared before his final illness, was released on the feast of Divine Mercy: Sunday, April 3. Pope John Paul, who had established that feast on the calendar of the universal Church, and was a great proponent of the Divine Mercy devotion, died just as the liturgical celebration of the feast day was beginning, with Vespers on Saturday evening.
Archbishop Leonardo Sandri, the deputy Secretary of State, read the Pope's message at noon on Sunday, after the public recitation of the Reginal Caeli prayer. In the message, John Paul II remarked that Jesus offers his infinite mercy to man, "who so often seems lost and dominated by the power of evil, egoism, and fear."
"It is a love that converts hearts and gives peace," the Pope continued. He offered the prayer of the Divine Mercy chapelet: "Jesus I trust in you, have mercy on us and on the entire world."
The Divine Mercy devotion was popularized by St. Faustina Kowalska, a Polish nun who was beatified, then canonized, by Pope John Paul II. St. Faustina had related her vision of Jesus, appearing to her with streams of light emerging from his heart, asking that a feast be established after Easter in honor of his mercy. During the April 3 recitation of the Regina Caeli-- the Marian prayer that replaces the Angelus during the Easter season-- an image of Jesus as seen by St. Faustina was placed in the center of St. Peter's Square.
Pope's Final Statement Proclaims Divine Mercy
Last Moments of John Paul II Described
The Holy Father's New Encyclical on the Eucharist - Ecclesia de Eucharistia
Research Resources Contents New Items Prayerline E-mail Search
Leap of Faith Catholic Site© 1996-2010